In the following video, Dr Michael Ghobrial from Sure Dental, a Content Maximiser client, shares how he increased his average number of new patients by almost 70% compared to 2019, all during a global pandemic. But instead of me telling you about it here, why don't...
About Raise Foundation: Raise Foundation is a registered Australian charity which provides best practice mentoring programs to impact the wellbeing of young people in Australia. Through mentoring, teenagers are given a positive role model to provided them support...
About Tomorrow's Youth: Tomorrow's Youth International is an organisation founded in 2001. They run Personal Development and Advanced Life-Skills seminars for teenagers and young adults aiming to improve the total well-being of the child. Solution: Website Design and...
About SeneGence: SeneGence is a privately owned, network marketing company that is in the business of developing and selling personal care products through an independent sales network. In April 1999, SeneGence started with LipSense® Long-Lasting Liquid Lip Color as...
Solution: Keynote Presentation Engagement Benefits: Educate audience on Social Media Marketing and Video Marketing Ability to produce rapid digital content with simple framework Increase audience's confidence in producing digital content to promote their...
In the 2nd month of launching the site, we have 10X our traffic and double the quality leads we are getting. It has been our biggest month in the clinic so far.
Dr. May Chan
Dentist & Co-Founder, BDS (Adelaide), FICCDE (Ortho), Dental Boutique
Content Maximiser is a full-service digital team of experts who not only creates and develops online strategies, but also helps bolster the company's online reputation and works to optimize all online content for search.
Cecilia Chan
Marketing Manager, USANA Health Sciences
ONLINE MARKETING RESOURCES 
TO HELP YOU GROW YOUR BUSINESS
Hi! Liza here from Content Maximiser. Welcome to another episode of the Content Maximiesr podcast! I was reminiscing from the Social Media Marketing World Conference that I attended in San Diego earlier this year, and I remembered a conversation I had with one of the...
read more
Hi, Liza here from Content Maximiser. Welcome to another episode of the Content Maximiser podcast! We just finished building a website for a new dental client Sandra from Newcastle. We are about to go live, and we asked them to update a few details so that they can...
read more
In this podcast we talked about increasing your bottom line
read more
2021 is an opportunity to capitalise on what we have learnt and prepared for a post-pandemic life through to 2022…
read more
As we all know that digital marketing is all about reaching target audience via different electronic and digital channels, social media…
read more
As Australian businesses face a new set of threats created by the COVID-19 pandemic, it's important to assess…
read more
DOWNLOAD YOUR FREE CHECKLIST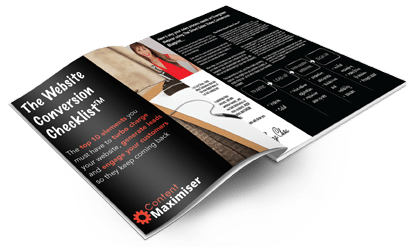 Want to Get More Leads From Your Website?
DOWNLOAD THIS FREE WEBSITE CONVERSION CHECKLIST™
and find out the Top 10 elements that turn a website into a Lead Generating Machine