The Rules of Using Hashtags
What are hashtags?
Once upon a time, a hashtag was just the hash mark or pound symbol, like so: #
The revolution started in 2007 when Twitter began to use the hashtag as a method of indexing keywords for easy discovery.
Other social sites jumped on the bandwagon, and now hashtags are ubiquitous on social media. The term has become so commonplace that it was added to the Oxford English Dictionary in 2010.
Do you know that pound (#) sign on your keyboard? Just add it before a word and voila, you have a hashtag!
A hashtag is a word or a group of words preceded by a pound (#) sign, which is used to categorise and find conversations around a particular topic or trend.
A hashtag is a clickable link to a group of posts using the same hashtag.
Hashtags are metadata tags that are used for grouping conversations. For example, suppose you are interested in Internet Marketing. You can search for #internetmarketing. Any social posts on Twitter, Instagram, Facebook and such that use this hashtag will surface, so you can be a part of the conversation.
Why use hashtags?
Hashtags have become an essential part of our day-to-day vernacular, all thanks to social media. And there is probably no better way to distinguish a digital novice from a digital native than the way they use hashtags.
Hashtags are often used as commentary or a punch line, but that's not helpful to us as marketers.
We want to use hashtags that help our content get discovered, and to be part of a larger conversation around topics relevant to our business.
Hashtags are also useful to discover what's trending, and to follow breaking news. Click on a hashtag to get a real-time feed of the posts using that hashtag, and get an overview of an event.
You can also share your interest or your business with a hashtag like #DentistAustralia, so that people who search for that particular topic can find your post.
How to use hashtags properly?
Hashtags are a great way to get your message in front of people actively looking for your topic – but you need to use them well.
Follow these hashtag rules and you'll be off to a great start!
Remember that a hashtag is a single word. There should not be any spaces – even if the term contains multiple words, punctuation, and special characters.
The different words of a hashtag can be distinguished by using capital letters. For instance, a very popular hashtag campaign by Red Bull #PutACanOnIt is basically "Put a can on it." The use of capital letters makes it easier to distinguish the different words of a hashtag.
If you place punctuation within your hashtag phrase, you will break the tag. Only the part before the punctuation will be your hashtag.
For instance, if you want to tag #Let'sGoHeat, you need to use #LetsGoHeat. In the first instance, your hashtag is actually #Let, because it's broken at the punctuation.
If you're a newbie and looking to dip your toe into hashtag waters, check out some do's and don'ts that you absolutely must follow. Consider them your Hashtag Rules: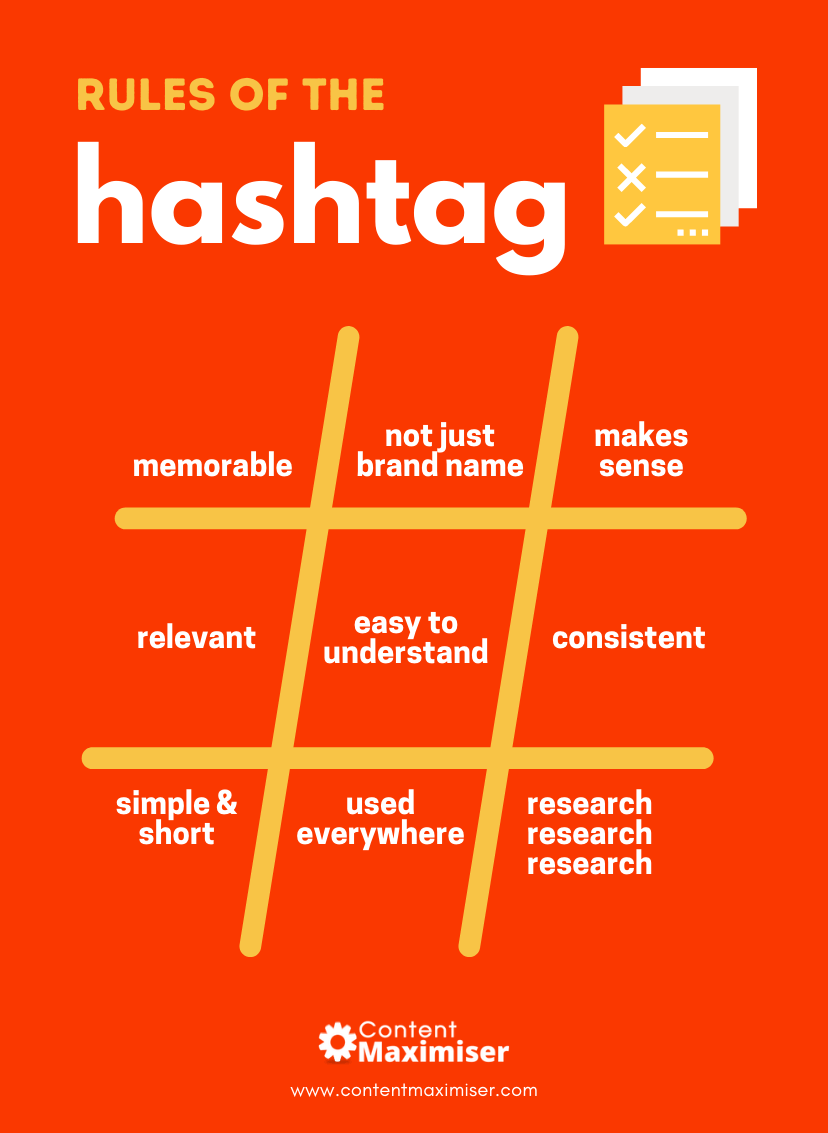 Hashtag Do's
The first step is to discover the hashtags used by others in your niche. Follow hashtags related to your line of business.
Before using a hashtag on a particular social channel, check out the rules. Although the fundamental principles are the same, the rules vary from one social channel to another. For example, Twitter focuses more on the topic while Instagram focuses on the description.
For a business, it's important to perfect the art of targeting your audience. So get as specific as possible when using hashtags.
Get creative. The right hashtag has the power to go viral. After you've gotten the hang of using hashtags, try coming up with a new one. Who knows, it might become a trend!
Hashtags are not just for marketing and promotion but for engagement as well. Use hashtags to start a conversation and participate in that conversation. Engaging with your users is a key to a well-rounded business.
Hashtag Don'ts
Don't use a hashtag without research. Sounds simple, doesn't it? Check whether the hashtag is already being used. If it is, note what is it being used for, to save yourself from possible embarrassment.
Don't overdo it. Using too many hashtags will make your post look spammy and drown the message. Depending on the social channel, decide on the number of relevant hashtags that you can use. But in general, don't have more hashtags than you have words.
Keep your hashtags short. Using overly long hashtags will confuse the visitors and put them off. #thisgivesmeaheadache – well, you got it!
Don't use the same hashtags on all platforms. Silly or irreverent hashtags may fly on Twitter and IG, but not LinkedIn, where you should remain professional.
Avoid acronyms that are not popular or well known. Acronyms like #YOLO may work but ones like #MCM may not. For example, an acronym used by the Burger King (#WTFF) meaning What the French Fry – failed to gain any traction mainly because of the unfamiliarity of the hashtag.
Click here to read the original article and view the original infographic.
Even though hashtags were created to organise content, they've since become a way to create conversations and promotions for brands and people. That being said, it makes total sense that your dental practice should start using them.
If you need help in coming up with an effective hashtag strategy for your dental practice, our Practice Growth Program would be perfect for you! Click the button below to get in touch.
Make sure your dental office avoids these five dental marketing pitfalls to get the most out of your marketing and advertising efforts…
Reaching the top and being right about website optimisation and organic search would be the aim of any business, whether big or small.